We have over 25 years of experience in the FMCG industry.

We do business in apx. 33 countries (and growing) in selected and specialized segments and channels.

We have a strong team of committed and dedicated employees.

We strive to ensure and provide the most fluent and reliable pre- and post-sales experience.

We are a very well-trusted, well-consolidated, reliable, and preferred business partner and trading house.

We are committed to the highest level of compliance and standards in our field of business.

We have external warehouse facilities in Denmark, Germany & The Netherlands.
Kiwi International is a professional, experienced, and reliable business partner in the FMCG industry.

With more than 25 years of history and experience, we have a proven track record of establishing successful business in cooperation with our commercial partners and clients.

Our strong results stem from our in-depth knowledge for specialized channels and segments, which are not directly served by the FMCG industry owners.

The markets, channels, and segments, which we have been identifying, serving, and developing in the past decades, provide a unique opportunity for industry players to grow their business in several ways, without disrupting the conventional sales establishments.

This is always accomplished with the utmost professionalism and an emphasis on transparency, reliability, and trustworthiness, in full compliance with the standards and requirements of the brand owners.
Regular Supply / Made-to-Order Supply

Surplus / Excess Stock

Discontinued lines and change in packaging, EAN, etc.

Overproduction / Clearance
Kiwi International is an experienced full-service logistics provider with the capability to offer, arrange, and coordinate "all-in" packages across our elaborate network of external warehousing and forwarding partners, including every step from making quotations, to delivery of goods at any destination, worldwide.
This allows us to customize all logistics operations to the needs and convenience of our partners, while at the same time, being able to maintain a comprehensive control of the flow of products, making sure that they reach their targeted destination and market, every time!
We accommodate individual requirements and provide tailored warehousing and freight offers and services, enabling our partners to enjoy a seamless and secure flow of their products.

We offer full-service CFR / CIF / CPT logistic solutions across freight options on Road, Sea, and Air.

We are experts in consolidation of orders across various brands / products from several independent suppliers, allowing for full convenience and customization of procurement.

We collaborate with some of the best warehousing and logistics in DK, DE, NL, etc.

We provide complete and elaborate warehouse inspection and loading reports, covering in- and outtake reports, picture of the goods, count of the orders (cartons and pallets), documentation of production and expiry dates (BBD's), truck and container loadings step-by-step, container closings and seal number, etc.

We are able to issue all necessary export documents, e.g. Bill of Lading (B/L), Air Waybill (AWB), CMR, EUR1 Invoice Declaration, Certificate of Origin (COO), Health Certificate (HC), Packing list, Delivery Note, Commercial Invoice, etc., in compliance with the customs requirements.
"We do business in apx. 33 countries (and growing) in selected and specialized segments and channels."
"
A selection of brands we can supply "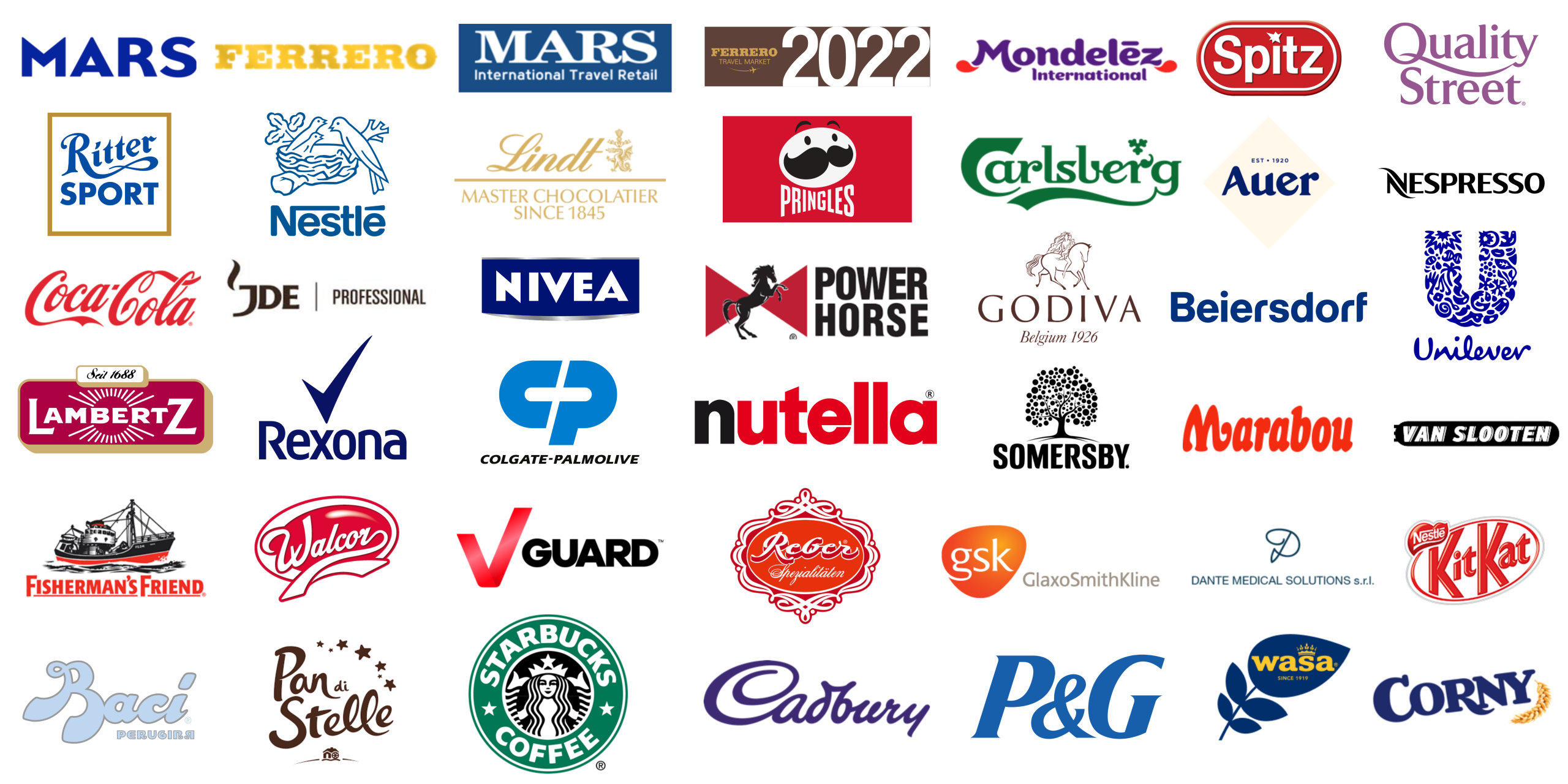 E

n

vironment
S

o

cial
G

o

vernance
We have a constant focus on freight optimization and reduction wasteful transport options, by always striving to finding the shortest and fastest consolidation options and avoiding non-essential movement of goods.

Our organization is dedicated to completely transform our work into digital processes, while stepping away from an analogue paper community, which in turns lowers our use of printing paper, ink, physical folders and document storage, electricity, etc.

We primarily work with partners that live up to the standards in relation to environmental awareness in production, transport, packaging, etc., clients, suppliers, transport forwarders, warehousing facilities, etc.

We practice and strive to only work with industry players who focus on healthy social conditions through equality, security and rights amongst employees and subcontractors.

T

he highest level of business ethics, trust, and compliance towards our partners, as well as internally and in relation to the government and public sector requirements, is our top priority!
Subscribe to our mailing list
Receive our latest offers for top branded quality FMCG products at competitive prices.